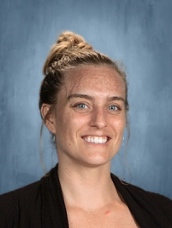 Hello, my name is Lyndsey McClintic and I am looking forward to another incredible school year! I love to inspire and encourage students here at Escuela Avancemos to be the best they can be in and out of the classroom.
I began working in education in 2008, teaching for 7 years in grades PreK-3rd, including 2 years as a kindergarten teacher here at Escuela. In my now 7th year at EA, I have had many roles that provided me a great opportunity to work with all of the students and staff in the building, and there is no other place I would rather be!
I received my Teaching Credential from Spring Arbor University, along with my Bachelor of Arts in Elementary Education, minoring in Language Arts and Exercise Sports Science. I completed my Masters in Educational Leadership and earned my Administration Credential from University of Texas of the Permian Basin. I also completed a second Masters degree in Teaching English to Speakers of Other Languages (TESOL) from Madonna University. My modeling of pursuing lifelong learning is intended to be an example to students and teachers that we never stop learning and my belief that learning is a part of life.
I am also blessed to be the brand new mama to my own little person, Mikailah Rose, born in April 2020. She is the love of my life. I have the same expectations for her as I do your children because when they are at school, your children are mine. I love them like they are mine and push them to do well like they are mine, too. I want to see them excel and have every opportunity to become whoever they want to be when they grow up.
I am amazed by the students, my colleagues, and our families here at Escuela Avancemos Academy. I feel grateful to partner with such incredible people to help every child at Escuela reach their potential!